This
Realistic Clear dildo
for women with bulbous head and textured shaft: Designed to be like the real thing or even better! Have 4 sizes suction cup dildo has an engorged bulbous tip crowning the veined shaft and balls, and with pronounced curve to slide in easy to your magic spot or take it deep anally, You can let it touch and kiss each inch of your skin without worries.
  Made from phthalate and latex-free silicone: our
realistic dildo
for beginners is made of silicone which is 100% phthalates, environmentally safe and hypoallergenic. What that really means to your sensitive places is that realistic dildo for women beginners feels good on the skin and it is safe because it is designed for easy cleansing and maintenance.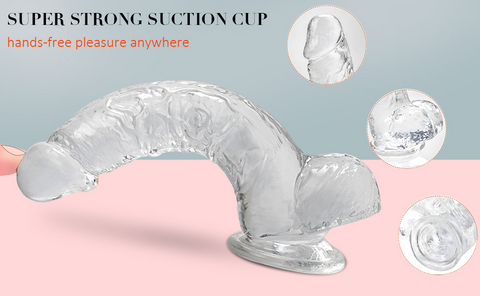 Hands-free Play with Strong Suction Cup Base: Let's having the hands-free play easier. Just stick this suction dildo to any hard and smooth surface and get ready for incredibly amazing sex! The sturdy suction cup secures that you can ride the waves on any smooth and flat surface to find your own pleasure. The realistic anal dildo is not too thin or thick. Perfect for anal play for men as well.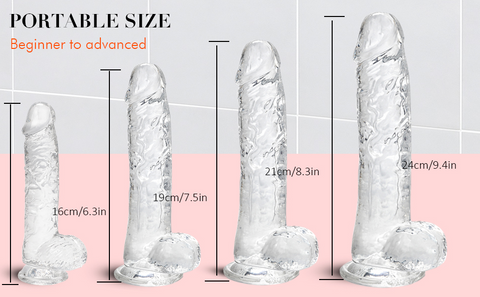 Grind to orgasm with a little under 4.7 inches of insertable length: The total length is 6 inches. Get across the finish line with just under 4.7 inches of panting joy. Meanwhile, the 1.3 inch diameter fills you to a real-life fit. We can't recommend this enough as a realistic dildo for women beginners or experienced people because we are pretty sure our suction cup dildo will please to whatever end you have in mind.
  Great for Practicing "Deep Throating" techniques: Not too big or small. It is soft and gentle going down. So comfortable it does not hurt your throat and so easy to slip deeply through. This is your perfect practice tool. Train your throat to avoid fumbling or gagging when the time is right. In a very short time you will not believe that those 6-9 inch small realistic dildo for women could train your throat after just a couple of sessions. He won't believe it either.
  Compatible with Strap-on Harnesses
  The suction cup dildo for women, men, gay, lesbian, couples and so on, also can be used as a harness strap on dildo.