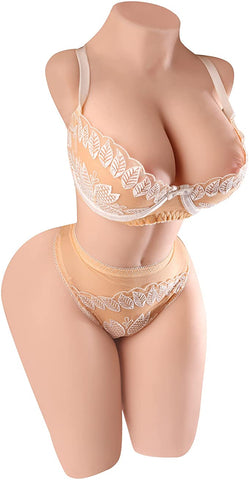 3 in 1 Female Torso Love Doll, Big Boobs, Big Butt, Tight Pussy & Anal, Realistic Male Masturbation Adult Sex Toy, 18.3 lbs

  【Big breasts and round peach buttocks】Perfect female figure, with a total length of 21.26 inches, 3D big breasts (22.83 inches), big buttocks (23.19 inches), and a thin waist that millions of girls dream of. Height is 20.86 inches. Pink nipples, like an eighteen-year-old girl, arouse your deep desire. let go!

  【Three-in-one stimulating experience】

  Sex dolls meet your three needs - breast sex, vaginal sex, anal sex. Designed according to real women's pussy and anus, very realistic and seductive. Especially the vagina and anus have threads and particles that will constantly tease and massage your dick. Mimic the feeling of having sex, slide in, let her squeeze and please you with every thrust!


  【Reverse the pose at will】

  The built-in skeleton can change a variety of postures, such as: left lift, lie down, back in. Use materials that are close to the body to make your sexual experience more real. When you choose to use vagina or anus, you can also touch her big tits for a direct orgasm

  【Pre-purchase notice】

  1. Please note that this torso doll is not a life size sex doll. But it's the perfect size to handle. 2. Does not include underwear; when choosing a bra, it is recommended to purchase according to the measurement data of the product size chart. 3. Water-based lubricants are recommended for better experience. 4. When not using sex dolls, please keep your legs together to avoid damage to the joint skin