The price of this dildo is beautiful, and it is more advantageous than other penis in terms of price. Looking at the customer's evaluation of 4.3 points, it can be seen that its quality is also very good. This high-quality and inexpensive penis is well received by the public.

  This lifelike dildo has a smooth and lifelike head, textured shaft and wrinkle ball, providing a super lifelike look for a lifelike dildo. The 7.3-inch lifelike dildo can be inserted into 5.3 inches, the size is just right. This perfect adult toy is not only suitable for female g-spot masturbation and male anal games, but also suitable for any couple who wants to add fun to their sex life.

  Flexible dildos and suction cups for realistic dildos, classic gel dildos chew a little bit to stimulate your inner pleasure zone, dildos with suction cups support hands-free play, realistic dildos will give you the greatest enjoy. Real penis-shaped things mimic the hard muscles of an erection, a strong and flexible shaft will make you full of energy, and a realistic dildo can provide the strongest and most authentic penetration you have ever experienced.
                                              Fill you up nicely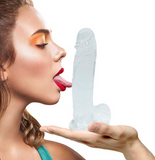 The dildo has a realistic shape and is easier to penetrate. Each time it is pushed, it will bulge veins to stimulate the vagina. Both of these functions bring a more natural and realistic feeling to the dildo, thereby increasing the fun.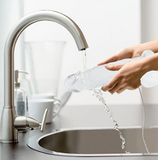 Clean with soapy water or toy cleaner
        Due to its TPE design, the dildo can be easily cleaned by washing it thoroughly with warm soapy water or using toy cleaner. After rinsing, pat dry with a clean towel, and then the dildo can be stored until the next use.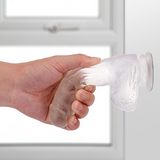 Powerful suction cup base
        The powerful sucker of the dildo can be attached to the smoothest surface. It is very suitable for hands-free games in various locations and locations. You can stick it on the shower wall, and then bend over to enjoy the wet and wild fun. Or you can stick it on a chair and start bouncing while watching your favorite adult movie.



                                              Incredibly flexible and bendable to any angle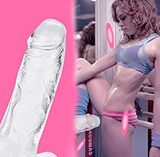 The long axis design is very flexible and bendable, so that it can maintain its shape at almost any stimulation angle to reach all hard-to-reach positions and find the most sensitive internal sweet spots from different angles. Sculpting realistic dildos brings real fun.