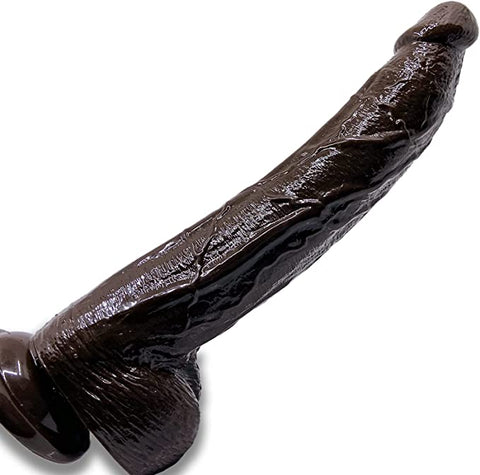 This 12.8" realistic dildo has a small glans and large testicles, a thick chocolate sucker dildo, and a ball dildo female sex toy. The price is cheap and the score is 4.5, which shows that it is very popular among the public.
        The tapered head makes insertion very easy!
        The benefits of a small glans dildo are obvious, namely ease of insertion. Even if you are a beginner in adult sex toys, the design of the small glans will not hurt your soft inside. It goes in easily and toughens your G-spot without pain. The thicker rod gradually fills itself up, climaxing while reaching the roots. The small head makes penetration easy!

  Allows for a more satisfying experience for advanced/intermediate users and daring beginners, and leaves room for long-term goals in your sexual adventures. Strap compatibility is a big plus, the suction is better than your mates, and you'll love the product's smaller head than the entire shaft, easier access, and a more authentic feel.

  Super realistic dildo

  In addition to the big lifelike pink glans, the unique design of this G-spot dildo lies in the grooves and intricate texture of the lace that give your G-spot even more friction when moving! While the entire erection of the large dildo and testicles is covered with lifelike veins that provide real sexual stimulation as he moves in and out, the protruding testicles are additional stimulation to your clitoris when he is fully inserted.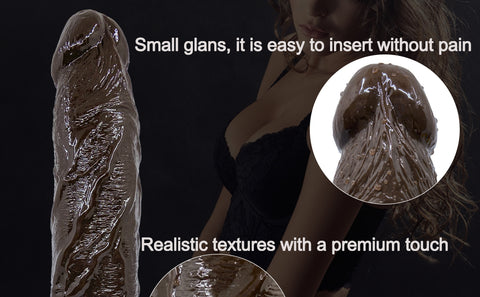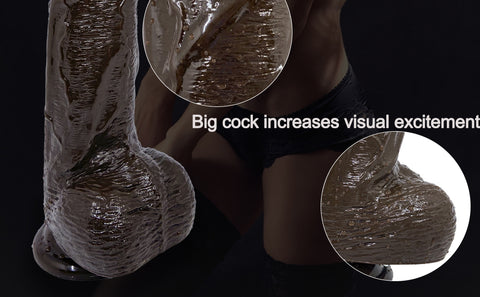 Super soft huge dildo!

  REALISTIC DILDO WITH BULBED HEAD AND TEXTURED SHAFT: Designed to look like the real thing (even better!) This lifelike dildo features a bloodshot bulbous tip covered with a veined shaft and ball, and features a pronounced Curves that can easily slide into your magic find or deep into the anus for even more pleasure massaging your body.

  Made from Phthalate-Free and Latex-Free TPE: The FOSSETTE vaginal dildo is made from 100% phthalate- and latex-free TPE, which is environmentally safe and hypoallergenic. What this really means for your sensitive areas is that it feels great and safe because it's designed to be easy to clean and maintain.

  Powerful suction cup for hands-free play!

  Play hands-free with a sturdy suction cup base: No matter what position you prefer, the sturdy suction cup base allows you to play hands-free. For example, on the bathroom wall, on the bathtub, on the bedroom door. Stick it on any smooth, flat surface and ride to glory!

  Freeing your hands allows you to stimulate more parts, such as breast stimulation, clitoral stimulation; you can also use other sex toys, such as massage, push-pull or sucking sex toys, anal sex toys, etc.The sucker is huge, bigger than my fist!

  Huge dildo for brave women!

  If you are a beginner then this big guy is not for you because it measures 12.8 inches! But it also provides room for long-term exposure to adult sex toys. Realistic giant penis, this realistic large dildo is available in circumferences ranging from 5.5" to 7.3" to fill your vagina to the maximum. As the little penis is inserted slowly, you will feel him gradually fill you up, and thanks to the 9.5" insertable length, you will feel the pressure everywhere and cheer as he strokes deeper and more frantically! If you want the feeling of being truly filled, this Big Savage is for you!

  This is definitely not something a beginner should buy because it's huge. For seasoned individuals, it's still huge. Ha ha. If you have the courage to use it, you will love it. Very deep penetration and girth will stretch you nicely.