This is a swinging G-spot rabbit with 3 climactic lit swing speed levels, 10 vibration functions and a blinking bunny trailer for the joy of a lifetime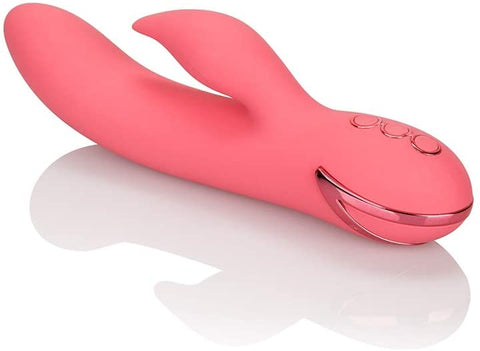 Sensory Rocking Action: G-spot stimulation tips deliver precise back-and-forth rocking action that redefines fun. Choose the intensity of your pleasure with 3 shocking swing speeds and delve into the orgasm-inducing inner stimulation. To maximize and customize your fun, the easy-to-touch 3-button control pad lets you independently manipulate a plethora of vibration and rocking options. The sensory rocking tip has a powerful rocking action to ensure you always hit the right spot.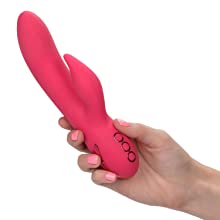 10 VIBRATING FUNCTIONS: Silky smooth trailers flash to the rhythm of 10 exciting vibrating functions to tease, delight and seduce. Try out every highly satisfying vibration, upgrade and pulsing feature for an indulgent pleasure experience

  WATERPROOF AND EASY TO USE: An easy-to-touch control pad lets you independently control vibration and rocking speed. Dive into foreplay while immersing yourself in the thrills without missing a beat with this versatile waterproof massager. Get excited about yourself or your partner and take a dip with this stimulator! The waterproof massager is ready to explore your senses in the shower, bathtub, hot tub or wherever fun takes you.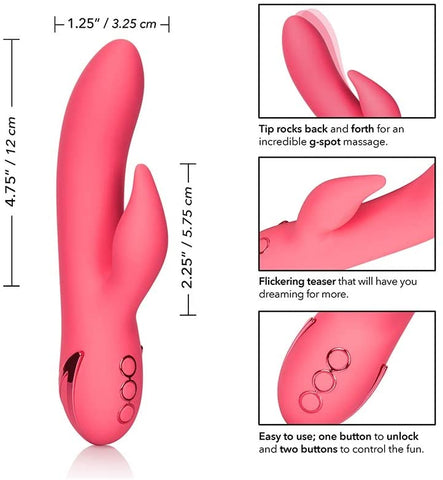 Great for all levels of porn experience

  This versatile sweetheart is a bold choice for beginners and very exciting for those with porn experience. Whether you're looking for a sensual solo time, or warming up with your partner, this silky rabbit massager is ready to excite you.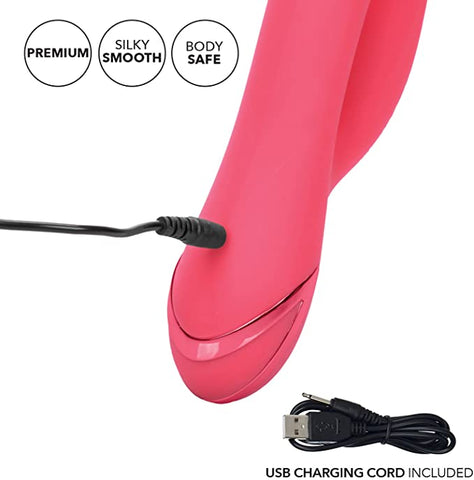 USB rechargeable

  Enjoy up to 150 minutes of vibrating thrills with smooth three-button control. Plug the included USB cable into the self-sealing charging port on the back of the massager and charge your passion in just 2.5 hours.

  State-of-the-art memory chips

  The vibrator's memory chip allows you to quickly dive into exciting fun by restoring the last function you used. Just turn it on and accept the high vibration.

  PREMIUM QUALITY: The hypoallergenic silicone shaft measures 4.75" x 1.25" (12cm x 3.25cm) and the Flick Trailer measures 2.25" x 1" (5.75cm x 2.5cm). This modern vibe has a maximum runtime of 150 minutes and a charge time of 2.5 hours